Draytek Vigor 2200Eplus VPN Router
DrayTek Vigor 2200Eplus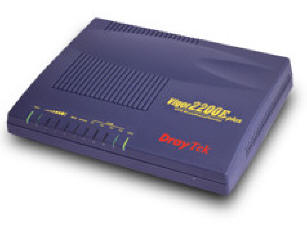 The DrayTek Vigor2200Eplus is a highly Integrated broadband router with VPN capability targeting SOHO and residential broadband access.

Besides powerful firewall protection against malicious Denial of Service attacks, the DrayTek Vigor2200Eplus is designed with more advanced security feature such as Stateful Packet Inspection to offer network reliability by detecting attacks and prohibits malicious penetrating packets from entering Internal network.

Furthermore, embedded with multi-protocol (IPSec/L2TP/PPTP/L2TP over IPSec) VPN for confidential remote access, the DrayTek Vigor2200Eplus is equipped with powerful DES, 3DES encryption engine and automated key management via IKE to easily create up to 16 simultaneous VPN tunnels. The DrayTek Vigor2200E plus is ideal for teleworkers and branch offices.
1. Internet / WAN
One 10/100M Base-TX port with a RJ-45 connector.

DHCP client for cable service.

Static IP address assignment for fixed IP networks.

PPPoE/PPTP client for ADSL service.
2. LAN
4 port 10/100 Base-TX Ethernet switch.

DHCP server for IP assignment (up to 253 users).

DNS cache and proxy.

NAT (Network Address Translation).

Virtual server via port redirection r open port feature.

VLAN support.

Port-based rate throttling capability.
3. Firewall Facilities
Automatic Keep-state facility.

Selectable DoS/DDoS protection.

IP address anti-spoofing.

User-configurable packet filtering.

NAT/PAT.
4. Virtual Private Network (VPN) Facilities
High performance VPN device.

Up to 16 simultaneous VPN tunnels.

Dial-in or Dial-out, LAN-to-LAN or Teleworker-to-LAN.

Protocol support for PPTP, IPSec, L2TP, L2TP over IPSec.

Encryption support for AES, MPPE, nd DES/3DES.

Authentication support for MD5 and SHA-1.

IKE key management.

Interoperable with other leading 3rd party vendor VPN devices or software.
5. Flexible URL Content Filtering
Block URL (web-site) by user-defined keywords.

Preclude web surfing from using directly IP address.

Block automatic download of Java applets and Active X controls.

Block http downloads of file types:zip/exe.

Support time schedule to control the restrictions and regular Internet access.
6. Application Support
Windows Messenger, Yahoo Messenger, MSN Messenger V6.0, NetMeeting, ICQ2001b/2002a, most online gaming, and other multimedia applications.

UPnP protocol support
7. Router Management
Web-based User Interface.

Command Line Interface (Telnet).

Telnet Remote Access Support.

SNMP Agent with MIB-II.

Built-in Diagnostic Function.

Remote Firmware Upgrade.

Quick Start Wizard.

Syslog Monitoring.