Draytek Vigor 2130 Broadband Router & Firewall
DrayTek Vigor2130Vn DrayTekVigor 2130n DrayTek Vigor2130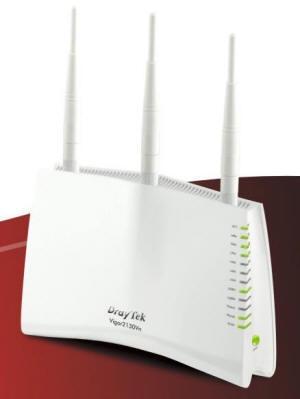 The DrayTek Vigor2130, Vigor2130n and Vigor2130Vn VDSL2 Routers were designed for speed-hungry customers.

With high throughput performance and secure broadband connectivity provided by Vigor 2130 series, you can simultaneously use bandwidth-intensive applications like high-definition video streaming, online gaming, and Internet telephony / access.
The DrayTek Vigor2130 series are routers with high speed in data transmission through WAN both port and LAN ports. With hardware NAT acceleration, the rate of Vigor2130 series can be as high as 800Mbps. With FTTx deployment, the main question for end users is whether their legacy router could fully utilize the available bandwidth or not. You don't want to find yourself purchasing a 120 Mbps Internet connection from your ISP only to learn that your existing router cannot support 90 Mbps throughput. With the DrayTek 2130 series, the problems is solved.


DrayTek Vigor2130Vn VoIP WLAN
DrayTek Vigor2130n WLAN
DrayTek Vigor2130
DrayTek Vigor 2130 Series Router/Firewall
The DrayTek Vigor 2130 Series routers provide similar features to the DrayTek Vigor 2110 series, with these differences:
Up to 800Mb/s WAN Throughput - intended for ultra high-speed Internet services

Gigabit Ethernet WAN Port

4-Port Gigabit Ethernet Switch

Support for IPv6 Networks

Support for 15,000 simultaneous NAT sessions
DrayTek Vigor 2130 Series Specification
Ethernet WAN (Internet/modem) Interface

Up to 800Mb/s WAN Throughput

IPV6 Ready

Compatible with Euro-DOCSIS 3.0 & DOCSIS 3.0 Modems

Gigabit Ethernet WAN Port

4-Port Gigabit Ethernet LAN Switch

Universal Plug'n'Play (uPnP) support

SNMP Reporting Facilities

Firewall Facilities:

DMZ Host, Open Port, Port-redirection

ACL (Access Control List)

MAC Address Filter

SPI (Stateful Packet Inspection)

DoS / DDoS Prevention

IP Address Anti-spoofing

VPN Facilities:

Create up to two dial-out VPN tunnels to remote hosts

Support for L2TP & IPSec with Pre-shared key

3DES & AES Encryption

SHA-1 and MD5 integrity algorhythms

VPN Passthrough for VPN client/server running behind the router

Wireless LAN Features ('n' Models only)

802.11n Compliant

WiFi Certified

802.11b & 802.11g Compatibility

WEP & WPA Wireless Security & Encryption

WDS - Wireless Distribution System for expanding wireless networks

WPS - WiFi Protected Setup

Built-in Ethernet switch featuring :

Four Gigabit (10/100/1000Mb/s) auto-selecting (IEEE802.3) ports

Automatic selection full/half duplex & straight/uplink modes

Dual-colour LED for each port to indicate operating speed

Layer-2 (802.1p) QoS

802.1q Bridge

NAT (Network Address Translation) featuring

DHCP Server - User configurable

Easy to use Web-based User Interface, management with optional IP address restriction.

Management Logging/Monitoring via :

Syslog (also with Web Viewer)

Web (Browser) based interface

Telnet Interface

Flash-Upgradable memory for firmware upgrades/enhancements

Support for Class C LAN (up to 253 local users)

Physical Characteristics:

Flash Upgradable firmware

Dimensions (mm) :

Weight : grams approx

Maximum Power Consumption : approx

Supported O/S : Windows 95, 98, ME, NT4, 2000, XP, Vista, Windows 7, Linux & MacOS8/9/X

Warranty : Two (2) year manufacturer's RTB warranty

Box contents : Router, UK PSU, Ethernet cable (1.8M), ADSL RJ11 Line cable (1.8M), Quickstart manual, Utility & Documentation CD-ROM, Wall-mounting screws, Aerial (Wireless models only)