Draytek VigorPro 5300
Unified Security Firewall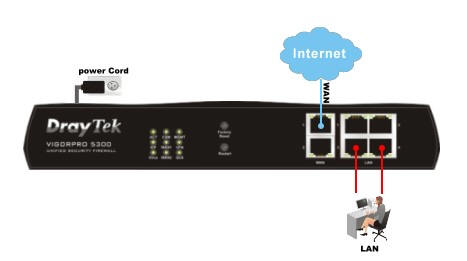 * Multi-threat security architecture
* Anti-Virus, Anti-Intrusion & Anti-Spam
* Intrusion Prevention & Detection (Inline , Realtime)
* DrayTek patented MSSI (Multi-Stack Stateful Inspection) provides deep packet inspection
* Robust stateful Packet Inspection (SPI) firewall with DoS / DDpS protection to protect your network from external attacks
* Up to 100 simultaneous VPN tunnels provide deployment of linked branch offices and teleworkers
* CSM (Content Security Management) feature provides efficient appliance-based gateway security and content filtering
* QoS (Quality of Service) Assurance
SSL VPN Application
Without the necessity of installing VPN client on individual PC, the Secure Socket Layer (SSL) virtual private network (VPN) facility lets remote workers connect to the office network at any one time. SSL is supported by standard web browsers such as FireFox and IE. For users of small offices and teleworkers who need to access enterprises's internal applications, file server and file sharing, DrayTek VigorPro5300 UTM series allow up to 30 concurrent SSL sessions.
---
All-in-one Unified Security Firewall
DrayTek VigorPro 5300 Series is an all-in-one Anti-Viurs, Anti-Intrusion and Anti-Spam security application for SOHO and branch office. DrayTek VigorPro 5300 series provides real-time network protection against viruses, worms and malicious programs via e-mail, FTP and web browser. The rule-based website contact filtering blocks improper connection to internet in flexible way, With DrayTek's DrayOS? as kernel, DrayTek VigorPro 5300 series provides robust and stable VPN, firewall and routing functionality as well.
---
Hardware-accelerated, Real-time Response
The DrayTek VigorPro 5300 employs a unique, hardware-accelerated architecture the provides the ability to perform real-time security without slowing critical network applications, such as Web traffic. Software-based anti-virus systems, which are designed for scanning non-real-time email messages, are too slow to be used to scan Web traffic or other real-time network applications.
---
Network-level Protection
Conventional way to protection against virus or malicious program, it required each host to install software on the host. To install software on a large number of hosts is a time consuming process. To evaluate for vulnerabilities, both scan engine and virus database needs constant upgrade. It is very costly and annoying for IT personnel with high maintenance. While DrayTek VigorPro 5300 works as firewall as well as internet gateway, so by nature DrayTek VigorPro 5300 blocks any attacks at the point of network entry. Through the user interface, the security administrator can monitor and instruct the DrayTek VigorPro 5300 to look for any vulnerability in network-level. Provide protection of all hosts inside network edge before threats intrude.
---
Content-based Inline Inspection
Conventional firewalls only inspect packets connection behavior to against any connection-based attack. While the content-based threats today. such as virus, worms, Trojans or banned content, which spread faster and do more damage. Conventional firewalls bypass the widely spread content-based threat and expose internal network to outside world. DrayTek VigorPro 5300 deploys DrayTek's unique MSSI? (Multi-stack Stateful Inspection) mechanism. With MSSI? , DrayTek VigorPro 5300 inspects packet streams, compares any suspected content or behavior with build-in database in real-time, and provide inline anti-virus and anti-intrusion protection.