Draytek VigorTalk ATA-24
VigorTalk ATA-24 24-Port Analog Terminal Adapter

The DrayTek VigorTalk ATA-24 is a 24 FXS Port VoIP Gateway. The VigorTalk ATA-24 not only provides high quality call service, but also supports various VoIP protocol and supplementary services. The SNMP-based of VigorCMS is the management software offers an easy way to remotely set up configurations, update system status, display alarm events, monitor system behaviors, perform diagnostics and download firmware and email attacking alert. For installation, status monitor and management of VigorTalk ATA-24 series of routers, it will be easily accomplished through a built-in web user interface or Telnet command line Interface.
The VigorTalk ATA-24 series integrates a rich suite of functions. These products are very suitable for providing multi-integrated solutions to SME markets. An application scenario for the VigorTalk ATA-24 is depicted the figure below, which illustrates interconnections among branch offices through the Internet via the VigorTalk ATA-24 adapter. By combining with an existing PBX, an Internet phone from a remote branch can also access any extension number on a local PBX or a traditional phone via PSTN. Also, with Internet phone features, the company can benefit from reduced operation costs.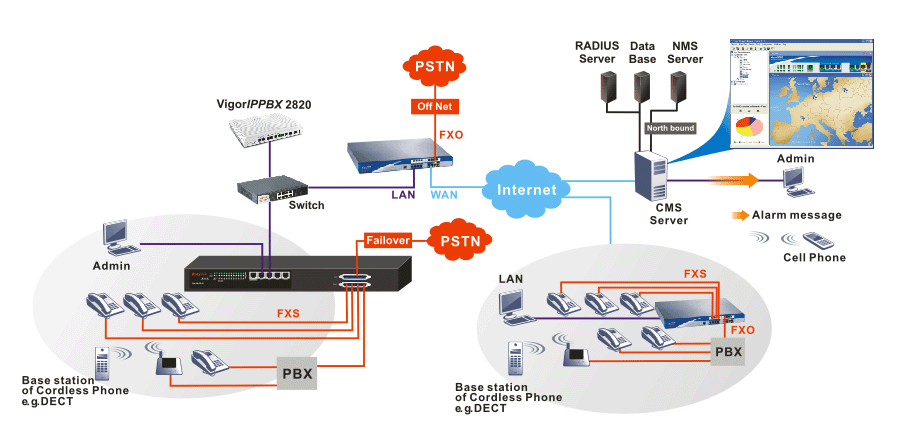 Internet Telephony, also known as Voice over Internet Protocol (VoIP), is a technology that allows you to make telephone calls using a broadband Internet connection instead of a regular (analog) phone line. Combining a PBX with the adapter allows you to call anyone who has an Internet phone or a traditional telephone number ? including local, long distance, mobile, and international numbers.
Internet Telephony offers features and services that are unavailable with a traditional phone at no additional cost. Because Internet Telephony requires strictly minimal packet delay and jitter (since voice quality is intolerant of packet loss), the adapter integrates VoIP feature with QoS and packet loss concealment mechanisms to effectively transport high priority voice traffic over IP with low latency.
Another feature is T.38 fax relay. By enabling and configuring fax rate on a dial peer, the originating and the terminating adapter can enter fax relay transfer mode. By using the T.38 function, customers can also save on faxing expenses.
VigorTalk ATA-24 Specifications
1. VoIP (Voice over IP)

* FXS(24 Ports)
* MGCP / SIP / H248
* Codec G.711, 729A, 723.1, G.726
* VAD(Silence Suppression) & CNG
* G.168-2000 Echo Canceller, Jitter Buffer
* Packet Loss Concealment
* RFC2833 - Out of Band DTMF
* Gain / Attenuation Setting
* Modem Support Rate Up V.92
* Caller ID Support : Bellcore, ETSI, DTMF-based(Nor-Europe)
* Line Polarity Reversal Generation
* Hunting Group
* Call Holding & Call Forwarding
* Call Transfer, Call Waiting , 3-way Conference
* Outbound Proxy
* NAT Traversal (STUN) (RFC 3489)
* Incoming Call Barring
* T.38 Fax Relay
* Single Codec Assignment
* Multiple SIP Proxies Registering

2. Network Features

* DHCP Client
* DDNS Client
* Port Mirroring
* WAN Port Backup

3. Firewall

* Denial of service Prevention

4. VigorCMS

* On-line Device Status
* Firewall Configuration (DoS)
* VoIP Configuration
* Performance Monitoring
* Topology
* Log
* Alarm

5. Line Test and Diagnostic Functions

* Metallic Loop Test
o AC Voltage
o AC Current
o DC Voltage
o DC Current
o Resistance
o Capacitance
* Line Card Test
o Normal Battery
o Loop Current
o Dial Tone Testing
o Dial Digit Testing
o Ring Voltage Testing
* User Phone Test
o Pulse Digit Receiving Test
o Low Frequency Signal Level Test
o High Frequency Signal Level Test
o Low Frequency Test
o High Frequency Test
o DTMF Tone Dialing Digit Receiving Test
o Howler Tone Test
o Ringing Test

6. System Management

* Web User Interface
* Command Line Interface (Telent, Console)
* Command Line Interface-SSH
* Remote Firmware Upgrade
* Syslog for Logging and Monitoring
* SNMP - Basic MIBs
* SNMP - VoIP
* SNMP - Firewall (DoS)
* SNMP - Alarm