DrayTek Vigor 2910


Vigor 2910 Vigor 2910G (Super G WLAN)
Vigor 2910V (VoIP) Vigor 2910VG (VoIP Super G)
The DrayTek Vigor 2910 is a high-performance firewall and VPN device, providing up to 32 simultaneous VPN tunnels for branch-office linking or teleworkers. In addition, sophisticated firewalling is provided making the DrayTek Vigor 2910 a comprehensive and feature-packed firewall device to increase both security, flexibility and performance of your network Internet connectivity. Security features are packed into every area of the Vigor2910's functions.
DrayTek Vigor 2910 Enhanced Firewall
The DrayTek Vigor 2910 includes full packet-level firewall facilities and also employs stateful packet inspection/recording for both NAT and non-NAT (IP routed) modes. A default 'deny' policy means that any packet arriving which appears unsolicited won't get through to your LAN. The DrayTek Vigor 2910series also features automatic selectable protection from Dos/DDos (Denial of Service/Distributed Denial of Service) attacks and IP anti-spoofing. User-definable filters also allow you to add additional protection to your connection (see right); a new object-oriented system makes specifying flexible filter sets easier and more flexible. For added confidence, potential or foiled attacks are logged and can be reported via the router's syslog facility or emailed to you by the router.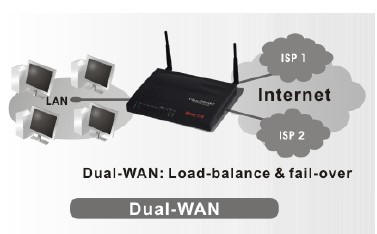 Dual Ethernet WAN Interfaces
The primary 'WAN' interface (the connection to the outside world) is 10/100BaseT Ethernet. This can connect to any Ethernet based router IP or Internet feed which might typically be fed via Leased Line, cable modem, ADSL, Satellite system - anything which is then terminated in Ethernet. In addition, one of the LAN Ethernet ports can be selected as a secondary WAN (Internet) Interface. The second interface can be used as backup failover for the primary WAN port, load balancing or for bandwidth aggregation. This allows you to use two Internet feeds simulataneously to provide higher total capacity (aggregation), or rule-based routing over two feeds (load balancing). If you do not have a second WAN feed, you can use the 2nd WAN port as a regular LAN port instead.
Selectable QoS Assurance
The DrayTek Vigor 2910 supports selectable QoS (Quality of Service). This enables you to select specific protocols/services to have guaranteed levels of your Internet bandwidth. For example, if you need POP3 email to have priority, you could specify that 50% of your available bandwidth is guaranteed for POP3 email. When the bandwidth is not being used by POP3, it is still available for all other traffic,. The Vigor2910's QoS facility provides flexibility - you can set several groups of services to have different priorities, data directions and bandwidth reservations.
Broadband Router & Firewall

3G (Cellular) Modem support (Firmware Upgradable)

Content Filtering (by matched keyword or data type)

SurfControl Web Site Category Filtering

Ethernet Virtual LAN segmentation (common/distinct)

Configurable QoS Features (For traffic prioritisation)

VPN Dial-in/dial-out (up to 16 tunnels)

802.11g Wireless LAN ('G' Model only)

Selectable Secondary WAN Port for backup

Twin Voice-over-IP Phone Ports ('V' model only)

USB Port for Printer sharing or 3G Modem connection

Highly configurable but easy to install and monitor
1. Dual-WAN
Outbound Policy-Based Load-Balance
BoD (Bandwidth on Demand)
WAN Connection Fail-over
2. WAN Protocol
DHCP Client
Static IP
PPPoE
PPTP
BPA
L2TP
3. Firewall
CSM (Content Security Management) for IM/P2P Application
Multi-NAT, DMZ Host, Port-Redirection/Open Port
Policy-Based IP Packet Filter
DoS/DDoS Protection
IP Address Anti-Spoofing
E-Mail Alert and logging via Syslog
Bind IP to MAC Address
4. VPN
Up to 32 VPN Tunnels
Protocol: PPTP, IPSec, L2TP, L2TP over IPSec
Encryption: AES, MPPE and Hardware-Based DES/3DES
Authentication: MD5, SHA-1
IKE Authentication: Pre-shared Key and Digital Signature (X.509)
LAN-to-LAN, Teleworker-to-LAN
DHCP over IPSec
NAT-Traversal (NAT-T)
Dead Peer Detection (DPD)
VPN Pass-Through
VPN Backup
5. USB
6. Bandwidth Management
Class-based Bandwidth Guarantee by User-Defined Traffic Categories
DiffServ Code Point Classifying
4-level Priority for Each Direction (Inbound/Outbound)
Bandwidth Borrowed
Bandwidth/Session Limitation
7. Network Management
Support TR-069
Web-Based User Interface (HTTP/HTTPS)
Quick Start Wizard
CLI (Command Line Interface) / Telnet/SSH*
Administration Access Control
Configuration Backup/Restore
Built-in Diagnostic Function
Firmware Upgrade via TFTP/FTP
Logging via Syslog
SNMP Management with MIB-II
8. Content Filter
URL Keyword Blocking (White list and Black list)
Java Applet, Cookies, Active X, Compressed / Executable / Multimedia File Blocking
Web Content Filter (SurfControl)
Time Schedule Control
9. Network Features
DHCP Client/Relay/Server
Dynamic DNS
NTP Client
Call Scheduling
RADIUS Client
DNS Cache/Proxy
UPnP
Port-Based VLAN
Configurable WAN2
Routing Protocol:
Vigor2910 Vigor2910G (Super G WLAN)
Vigor2910V (VoIP) Vigor2910VG (VoIP Super G)