DrayTek Vigor 120
ADSL2/2+ Modem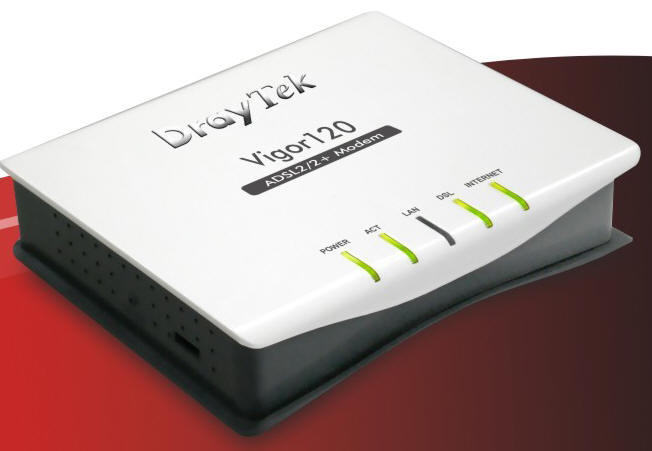 The DrayTek Vigor 120 is a single port ADSL2 ADSL2+ Bridge Modem Router with Firewall that supports up to 4 PVC.

The DrayTek Vigor120 also supports PPPoE/PPPoA relay (PPPoA to PPPoE bridging). The router or PC all can log into the Internet (your ISP) directly, having complete control over the ADSL connection. Therefore it is possible to connect a PPPoE client to the Vigor120 (firewall, Ethernet-WAN router, Apple Airport or PC) even if the connection to your ISP is still PPPoA (unlike other-brand modems which only offer PPPoE native bridging). This unique feature is very convenient for PPPoA-based ISPs.




With the Vigor 120 bridge/modem, you can have a true single public IP address (or multiple, if you subscribe them) directly through to your router/or firewall, which also has full control of the ISP connection.

Accordingly, the DrayTek Vigor 120 is ideal for home users and clients running multi WAN routers like the Vigor 3300V, VigorPro 5300, VigorPro 5510, Vigor 2910, Vigor 2930, Vigor 2950 series and even connecting to the second WAN port on the Vigor 2820 series products.

The Vigor120 supports TR-069 and it works with most TR-069 based central management system. VigorACS centralized management system can also facilitate ISP's deployment of installing DrayTek Vigor 120 and provide professional remote management for Internet Service Providers.

To secure your network, the DrayTek Vigor120 provides an advanced firewall with advanced features, such as NAT with multi VPN pass-through. SPI (Stateful Packet Inspection), to offer network reliability by detecting and prohibiting malicious penetrating packets or DoS attacks, and user-configurable web filtering for parental control against network abuse etc.



DrayTek Vigor 120 Quick Specs
ADSL Compatibility

ATM Protocols

PPPoE / PPPoA Relay (PPPoA to PPPoE Bridging)

RFC-2684 / RFC-1483 Multiple Protocol over AAL5

RFC-2516 PPP over Ethernet

RFC-2364 PPP over AAL5

PPPoE Pass Through from LAN

Transparent Bridge for MPoA

Supports 4 PVC
Firewall Facilities

Multi-NAT, DMZ Host, Port-redirect / Open Port

Stateful Packet Inspection (SPI)

DoS / DDoS Protection

User-configurable IP Packet Filtering
Network Features

Content Filter

URL Keyword Blocking (Whitelist and Blacklist)

Java Applet, Cookies, Active X, Compressed, Executable, Multimedia File Blocking

Time Schedule Control
Network Management

Web-based User Interface (HTTP)

CLI (Command Line Interface, Telnet)

Administration Access Control List

Configuration Backup / Restore

Build-in Diagnostic Function

Firmware upgrade via TFTP / FTP / HTTP / TR-069

Logging via Syslog

TR-069