Draytek Vigor 2710
ADSL ADSL2+ Router Firewall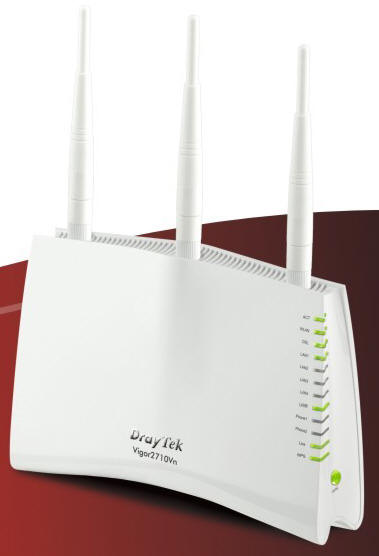 | | | | | |
| --- | --- | --- | --- | --- |
| Model | VPN | WLAN | DSL | VoIP |
| Draytek Vigor 2710 | 2 | - | ADSL2+ | - |
| Draytek Vigor 2710n | 2 | 802.11n Draft 2.0 | ADSL2+ | - |
| Draytek Vigor 2710Vn | 2 | 11n | ADSL2+ | 2S,1L |
| Draytek Vigor 2710VDn | 2 | 11n | ADSL2+ | 2S,1L & Dect features |
The DrayTek Vigor2710 is a highly integrated ADSL2/2+ router with VPN capability targeting SOHO (Small Office and Home Office) and residential broadband access requirement. These integrated network access devices not only offer rich functionality with up to 24Mbps bandwidth in downstream but also bandwidth management for multimedia applications. The integrated economical design makes the ideal balance of ease of use and secure network management.

Besides powerful firewall protection against malicious Denial of Service(DoS) attacks, the DrayTek Vigor is designed with more advanced security feature such as Stateful Packet Inspection(SPI) to offer network reliability by detecting attacks and prohibits malicious penetrating packets from entering internal network.

The easy-to-use CSM (Content Security Management) can prevent family from the connection to Web sites that contain illegal or objectionable content. The use of bandwidth/session consuming Peer-to-Peer (P2P) applications can be properly managed by embedded CSM. You can attach USB storage device to USB port of DrayTek Vigor to share files. Or, you can use USB printer by connecting it to USB port.

Furthermore, embedded with VPN support for confidential remote access, the DrayTek Vigor is equipped with powerful DES, 3DES encryption engine and automated key management via IKE to easily create 2 simultaneous VPN tunnels.

The DrayTek Vigor series features advanced bandwidth control mechanism such as IP-layer QoS, NAT Session Limitation, Bandwidth Borrowed, etc., to allow easy, flexible, reliable access control and bandwidth management. The SPI (Stateful Packet Inspection) firewall uses object-based design to make settings of
firewall policies easy. The CSM (Content Security Management) feature allows more precise and efficient access control for URL/Web Content Filtering, IM (Instant
Messenger) and P2P (Peer to Peer) applications.

DrayTek Vigor supports up to 2 VPN tunnels using advanced protocols such as IPSec/PPTP/L2TP/L2TP over IPSec with AES/DES/3DES for encryption and
MD5/SHA-1 for authentication. DrayTek Vigor ?n? models comply with 802.11n Draft-n standards. They support WEP/WPA/WPA2 encryption and MAC Address Control, Wireless LAN Isolation. The Wireless Rate Control function can adjust the data rate of each wireless station (client).

DrayTek Vigor ?V? models provide two analogue phone connectors and one line port. It supports multiple SIP registrars with high flexible configuration and call handing options.

DrayTek VigorVDn supports the DECT function compliant with DECT GAP/CAT-iq. It allows users to dial VoIP call, PSTN call, and Internet call through DECT phone set
registered in the router.

In addition, DrayTek Vigor series supports USB interface for connecting USB printer to share a printer or USB storage device for sharing files. DrayTek Vigor series provides two-level management to simplify the configuration of network connection. The user operation allows user accessing into WEB interface via simple configuration. However, if users want to have advanced configurations, they can access into the WEB interface through administration operation.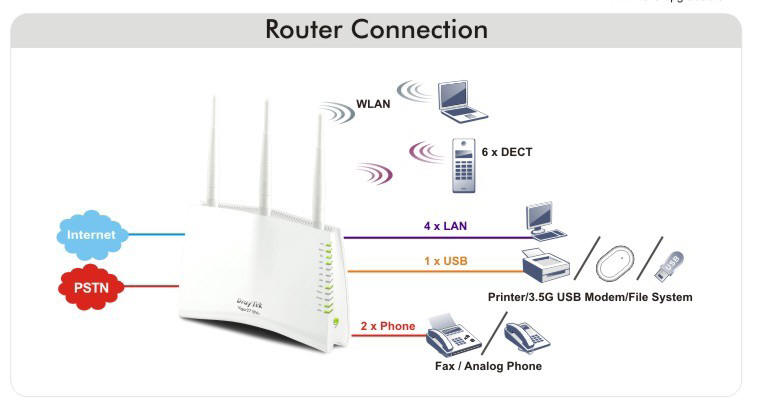 Draytek Vigor 2710 Series Specification
ADSL Interface compliant with :

ADSL, ADSLMax, ADSL2, ADSL2+, Annex A & Annex M

Routing Protocls :

Internet Protocols : PPP (RFC 1661), PPPoA (RFC2364), MPoA

LAN Protocols : ARP, Proxy ARP, IP, ICMP, IGMP, UDP, TCP

Authentication Protocols : PAP, CHAP, MS-CHAP

DNS Proxy & Cache

Universal Plug'n'Play (uPnP) support

SNMP Reporting Facilities

Firewall Facilities :

Protection against DoS/DDos attacks & IP Anti-Spoofing

Default Port Blocking through NAT

Object Based Firewall

User definable IP filters

URL Filter (block specific web sites)

Web site Category Blocking (subject to subscription)

Block HTTP download of common harmful file types

Peer-to-Peer Software and Instant Messaging Blocking

VPN Facilities (Dial-Out only)

Create up to two dial-out VPN tunnels to remote hosts

Support for PPTP with MPPE encryption over PPTP

Support for L2TP & IPSec with Pre-shared key

DES (56-bit key strength) & 3DES (168-bit key strength) encryption

AH (Authenticated Header) &

ESP (Encapsulated Payload) modes

SHA-1 and MD5 integrity algorhythms

X.509 Client Certificate Support

Remote VPN compatible with other vendor firewalls/VPN devices including Cisco, Nokia, SonicWall, WatchGuard

VPN Passthrough for VPN client/server running behind the router

Wireless LAN Features ('n' Models only)

802.11n Compliant

WiFi Certified

802.11b & 802.11g Compatibility

WEP & WPA Wireless Security & Encryption

WDS - Wireless Distribution System (for expanding wireless networks)

WPS - WiFi Protected Setup

VoIP Features ('V' Models only):

Two phone ports for connecting a regular analogue or cordless phone

SIP Standard compliant, compatible with DRayTEL and many other VoIP services

Free Voice calls to any other compatible VoIP users worldwide

Switches automatically between your PSTN/POTS line and VoIP

Failover to PSTN in event of powercut/ADSL failure

Phone Book (Dialplan) and LCR Rules (Digit Map)

Built-in Ethernet switch featuring :

Four port 10/100BaseT auto-selecting (IEEE802.3)

Automatic selection full/half duplex & straight/uplink modes

Dual-colour LED for each port to indicate operating speed

NAT (Network Address Translation) featuring :

Port forwarding - individual ports (with optional translation) and ranges of ports

Open internal servers up for external access

Soft DMZ - For passthrough of all protocols/data to a single internal client

DHCP Server - User configurable

Easy to use Web-based User Interface, management with optional IP address restriction.

Management Logging/Monitoring via :

Flash-Upgradable memory for firmware upgrades/enhancements

Support for local Class C LAN (up to 253 local users)

Physical Characteristics:

Flash Upgradable firmware

Dimensions (mm) :

Weight : grams approx

Maximum Power Consumption : approx

Supported O/S : Windows 95, 98, ME, NT4, 2000, XP, Vista, 7, Linux & MacOS8/9/X

Warranty : Two (2) year manufacturer's RTB warranty

Box contents : Router, UK PSU, Ethernet cable (1.8M), ADSL RJ11 Line cable (1.8M), Quickstart manual, Utility & Documentation CD-ROM, Wall-mounting screws, Aerial (Wireless models only)
| | | | | |
| --- | --- | --- | --- | --- |
| Model | VPN | WLAN | DSL | VoIP |
| Draytek Vigor2710 | 2 | - | ADSL2+ | - |
| Draytek Vigor2710n | 2 | 802.11n Draft 2.0 | ADSL2+ | - |
| Draytek Vigor2710Vn | 2 | 11n | ADSL2+ | 2S,1L |
| Draytek Vigor2710VDn | 2 | 11n | ADSL2+ | 2S,1L & Dect features |
draytek products