MHS100200 Spectra-2400 FHSS 2.4 GHz
RS232 RS422 RS485 Wireless modem
from Data Connect Enterprise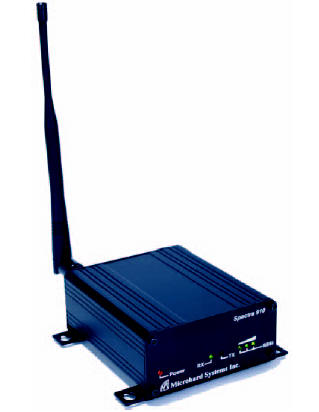 Wireless Ethernet Modems Bridges

MHS100200 Spectra-2400 FHSS 2.4 GHz enclosed modem, includes the following:
82501 x 1 12V, 1.2A Wall Adapter 110VAC
83110 x 1 Rubber Ducky Antenna
91035 x 1 Spectra-2400 Manual
84106 x 1 6ft. RS-232 Serial Data Cable

Spectra 2400 Wireless 2.4 GHz Spread Spectrum Modem

The Spectra 2400 is the enclosed version of the MHS-2400 specifically designed for high-performance frequency hopping spread spectrum industrial applications. The rugged extruded aluminum enclosure and wide operating voltage range ensure easy integration into most any end-user application.The interface is a standard RS-232 or an optional RS-485/RS-422 interface.
Transmission within a public license-exempt band of the radio spectrum (this means that the Spectra-2400 can be used without access fees such as those incurred by cellular airtime)



DB9 RS-232 serial I/O data port with hardware flow control (allowing the Sprecta-2400 to interface with virtually any communications device with an asynchronous RS-232 port such as a computer)

Optional RS-485/RS-422 interface

Supports point-to-point and point-to-multipoint, repeater operation with user-configurable addressing

No limit on the number of repeaters you can cascade.

User-configurable encryption key maximizes security and privacy of communications

Twenty different user-selectable pseudo-random hopping patterns to offer the possibility of separately operating multiple networks while providing security, reliability and high tolerance to interference

Built-in CRC-16 error detection and auto re-transmit to provide accurate and reliable data

User selectable FEC

FCC (Federal Communications Commission) and IC (Industry Canada) approved

Spectra-2400 is also CE approved