MHX-2400 OEM Wireless Module
from Data Connect Enterprise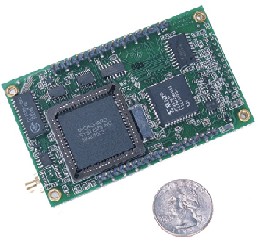 MHX-2400 OEM Wireless Module
FHS103100 MHX-2400 FHSS 2.4GHz OEM wireless modem

MHS103200 MHX-2400 DP, Development Platform, includes the following:
MHS103100 (2) MHX-2400 OEM Radio Modem
MHS105000 (2) Development Board
MHS031100 (2) Rubber Ducky Antenna
MHS040000 (2) MCX Antenna Cable
MHS041060 (2) 6ft. RS-232 Serial Data Cable
MHS025010 (2) 12V, 1.2A Wall Adapter 110VAC
MHS091010 (1) MHX-2400 Manual
MHS091020 (1) Development Board Manuall

MHX-2400 OEM Wireless Module

The MHX-2400 embedded wireless transceiver provides the highest levels of industrial spread spectrum data performance. This module is footprint and interface compatible with the MHX-910, ensuring quick migration from the MHX-910 (902 – 928 MHz ISM band) to the MHX-2400 (2.4000 – 2.4835 GHz ISM band) and vice versa. The RF rejection characteristics of these two products are unrivaled in the industry, meaning that the presence of excessive RF noise will not compromise their performance.
Transmission within a public license-exempt band of the radio spectrum (this means that the MHX-2400 can be used without access fees such as those incurred by cellular airtime)

Single +5V power supply

Small size

TTL logic level UART interface

Industry-standard AT command line interface provides computer control of the MHX-2400 module

Compatible and functionally equivalent to DCE's Spectra 2400 product line

Supports point-to-point and point-to-multipoint operation with user-configurable addressing

User-configurable encryption key maximizes security and privacy of communications

62 different user-selectable pseudo-random hopping patterns to offer the possibility of separately operating multiple networks while providing security, reliability and high tolerance to interference. Some hopping patterns avoid different segments of the 2.400 - 2.4835 GHz band.

Repeater mode, with no restriction on the number of repeaters

Built-in CRC-16 error detection and optional Forward Error Correction (FEC)

Separate development kit is available, enabling you to quickly begin developing your application with a PC

FCC (Federal Communications Commission) and IC (Industry Canada) approved at the modular level, enabling simple integration and quicker time-to-market without requiring further approvals

MHX-2400 is also CE approved
Spread Spectrum RS-232 FHSS – Frequency Hopping Spread Spectrum
Point to point and Point to Multipoint configurations Peer to Peer connectivity
SCADA applications License-free Industrial Ethernet bridge Ethernet PLUs