Rack & Power Supply
---
19" Rack and power supply for DCB products
---

DCB MR-8 Modem Rack


DCB XR-8 Rack
---
---
RK-8/16 Rack holds one 8 or 16 port multiplexer, access switch, dsu or modem
RK-24/32 Rack holds one 24 or 32 port unit multiplexer or access switch
MR-8 Rack holds 8 LL or PL modems
MR-8 Rack holds 8 DL DSU/CSU
XR-8 Works with all SPL, SR AND SRX multiplexers
PS-8 Power supply for MR or XR racks
XR-8 Rack holds:
8 2-6 Channel SPL multiplexers
4 8-14 Channel SPL multiplexers
8 SR or SRX 8/16 Multiplexers
4 SR or SRX 24/32 Multiplexers
---
This equipment is designed for high density packaging of DCB modems and multiplexers. The MR-8 modem rack will work with any LL or PL series modems and the DL DSU/CSU at rates from 4.8 to 56 Kbps. The XR-8 multiplexer rack works with any SPL, SR or SRX multiplexer. SPL rack cards from 2-6 channels occupy one of the eight slots available in the rack. SPL rack cards from 8-14 channels occupy two slots, SR and SRX 8/16 rack cards occupy one slot and SR and SRX 24/32 cards occupy two slots.

The DCB Rack is also suitable for use with:
DCB SecureDial 1-4 Channel
DCB SPL Hubs 2-10 Channel
DCB Access Switch
DCB Universal Switch
The DCB rack systems greatly simplifies wiring and test procedures as well as giving you a convenient place for spare equipment. The racks and power supplies are engineered to fit the standard 19" equipment cabinets.


The DCB RK-8/16 is used for rack mounting a single DSU, modem, 8/16 port multiplexer, or 8/16 port access switch. The DCB RK-24/32 is used for rack mounting a single 24/32 port multiplexer or access switch. The DCB RK-APS3 is used for rack mounting up to three APS-01 power control switches.

---
MR-8

Power
Transmit Data
Receive Data
Carrier Detect
Request To Send
Clear To Send
Test

XR-8

Power
Transmit Condition
Receive Error
Multiplexing
Test

PS-8

Power
MR-8 and XR-8

19"w x 10 1/2"h x 10"d
120 VAC, 2.4 Amps, 275 Watts

PS-8

19"w x 3 1/2"h x 10"d
120 VAC, 2.4 Amps, 275 Watts


Rear view of DCB PS-8


---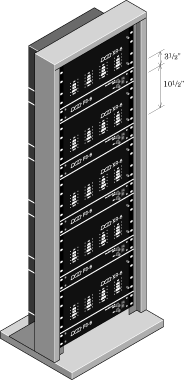 ---
How to Order
Rack Hardware Pricing:

MR-8
Rack for PL modem, LL modem, and DL-56 DSU/CSU
$ 500
XR-8
Rack for SPL & SR multiplexers
$ 500
RK-8/16
Rack mount for 8/16 port unit
$ 49
RK-24/32
Rack mount for 24/32 port unit
$ 59
RK-APS3
Rack mount for up to 3 APS-01 units
$ 75
PS-8
Power supply for MR and XR racks
$ 1,000