The Canoga Perkins
EdgeAccess L351
10/100BaseT Ethernet Service Unit (ESU)
provides an ideal choice for Service Providers
delivering Ethernet Transparent LAN Service (TLS) LAN
extension services and helps support QoS implementations.

The L351 provides the longest distance extension of any
product in its class at 120 km and is NEBS Level 3 Tested
and Certified

The new L351 Ethernet Service Unit is an Ethernet and
Fast Ethernet compliant technology module that supports
fiber optic extension of native 10 Mbps and 100 Mbps
TLS. It provides more features, such as Ethernet Jumbo
Frame support, and a wider range of applications than
any other product in its class

The L351 supports SNMP
and Sideband Management with Layer 2 statistics reporting
for total local and remote unit control. Additional
maintenance and fault isolation features include built-in
local and remote loopbacks, link loss detection and remote
fault detection.

The L351 is 10/100 Mbps speed auto
sensing or can be software configured by the user. A
variety of hot swappable optical network interfaces,
including multimode, singlemode, single fiber or CWDM
interface optics, are offered. This permits use in virtually
all Ethernet TLS applications.

The modular and hot swappable L351 has a 2U
footprint to save valuable rack space.
It can be rack mounted in the Canoga Perkins
Carrier Class UCS1002 Multi-Technology Platform or
1030/1020 customer premise standalone enclosures.
The EdgeAccess L351 Ethernet Service Unit (ESU) is a
managed Ethernet and Fast Ethernet Compliant device
that supports native 10Mbps and 100Mbps Transparent
LAN extension circuits.

The L351 offers 10/100 auto sensing or software
configurable User Interface and a variety of
optical network interfaces. The L351 is modular
and hot swappable with a common form factor to mount
in Canoga?s Carrier Class Universal Chassis System (UCS)
as well as a variety of customer premise enclosures.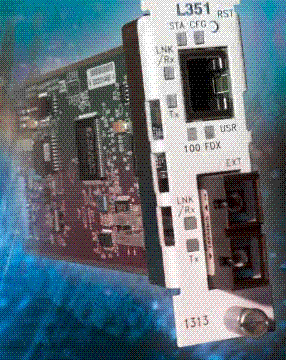 IEEE 802.3 Ethernet and Fast Ethernet Compliant
Auto-negotiating 10/100 Mbps UTP copper user interface
Remotely Configurable
Long range optical Extension up to 120 km
Multimode, singlemode, single fiber, and CWDM options
Ethernet Jumbo Packet support
Common form factor for Central Office Chassis and Customer
Premise Enclosure
Remotely Configurable Local and Remote Loopbacks
SNMP and SideBand Managed
Layer 2 Statistics
Link Status
Link Fail Detection and propagation with LLF, RMTF, and LLE
Modular and hot swappable
Auto cross-over UTP Port
NEBS Level 3 Tested and Certified
ETL, ETLc (UL 60950/CSA C22.2 No . 60950)
EN 60950, EN 60825-1,
EN 55022, EN 55024,
EN 61000-3-2, EN 61000-3-3
FCC Part 15B, Class A
R&TTE Directive (EN 300-386)
C-Tick (AS/NZS 3548)
NEBS Level 3 Tested and Certified
Specifications
PHYSICAL
Dimensions
Rackmount
3.0"H x 1.0"W x 9.0"D (76 x 25 x 228mm)
Standalone
1.5"H x 6.5"W x 10.0"D (38 x 165 x 254mm)
Weight
Rackmount
0.3 lb (0.13kg)
Standalone
3.0 lbs (1.36kg)
ENCLOSURES
Rackmount
UCS 1000, UCS 1001, UCS 1002
Standalone
Model 1030/1030E Standalone Enclosures
OPERATING ENVIRONMENT
Temperature
Rackmount
0? to 50?C
Standalone
0? to 40?C
Humidity
Up to 90% (Noncondensing)
POWER
5VDC 800mA Max.
CONNECTORS
Fiber (Extension Port)
SC
Copper (User Port)
RJ-45
Ethernet Service Unit (ESU)
Model L351
SWITCHES
Alarm, Link Loss Forwarding (With Direction),
Link Loss Echo, User UTP Crossover
Hardware Switches
Front Panel Reset, SBMC, User Port Speed,
User Port Duplex, User Port Auto Negotiate, LLF,
Extension to User, LLF, User to Extension,
Extension Port LLE/RMTF
Software Switches
Configuration Control (SW vs HW), User Port
Speed/Duplex, User Port Auto Negotiation,
RMTF, LLF, Loopback State, Swap MAC Address,
Recalculate CRC
ALARMS
Link Down, RMTF, LLF, Configuration, SBMC Loss,
Power-on Self Test, Power/Fan/Temperature
DIAGNOSTIC LEDs
STA System Status
LNK/RxLink Status and Receive Data Activity
Tx Transmit Data Activity
MANAGEMENT
SideBand Managment
Built-in User Interface
CanogaView
SNMP Management in the UCS 1000/1002