Canoga Perkins 9120
Gigabit Fiber Ethernet Extender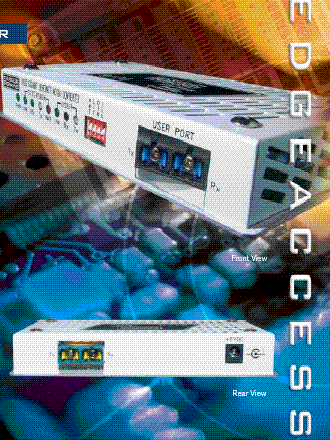 The Canoga Perkins 9120 is a Gigabit Ethernet Media Converter. It extends multimode Gigabit segments up to 90km over single mode fiber. It is designed for installation into the Canoga Perkins 9101 LAN Chassis, and is also available as a standalone for desktop or wall mount installation. The 9120 is especially suited for the long-distance extension of Gigabit Ethernet segments. Optical port options include 850nm on MM fiber, 1310nm and 1550nm on SM fiber. All popular sizes of single mode and multimode fiber are supported. The 9120 introduces Gigabit extension capability to the Canoga Perkins 9101 Chassis. It is field installable and can coexist with Canoga Perkins 8829 10Mbps and 9119 100Mbps Ethernet converters. The 9120 is a NEBS certified product designed and built with quality components to ensure reliability and longevity. The 9120 features Link Loss Forwarding (LLF), Canoga Remote Fault (RMTF), and Link Loss Echo (LLE). The user may enable or disable these features from a set of easily accessed switches located on the front panel of the 9120.
The primary application of the 9120 is the interconnection of 1000Mbps Enterprise Switches and Service Provider Backbone Networks. The 9120 addresses the Service Providers' requirements for Transparent LAN Services across a widely dispersed customer environment and physical plant.
---
Features

Model 9120 Gigabit Fiber Ethernet Extender

Full-duplex 1000Mbps Ethernet Operation up to 90km
Multimode and Single Mode Fiber Support
Supports 850nm SX, 1310nm LX and 1550nm ZX
Available as a Standalone or Rackmounted into a 9101 Chassis
Field Installable Into Existing 9101 LAN Chassis
A Set of Front Panel LEDs for Diagnostics and Monitoring
User Controllable Link Loss Forwarding, Link Loss Echo
and Canoga Remote Fault
802.3 1000BASE-SX and LX Compliant
1310nm/1550nm Extended Reach Optics up to 90km
NEBS Level 3 Tested and Certified