Canoga Perkins 8835
Fiber Optic Ethernet LAN Repeater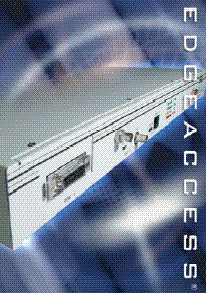 Canoga Perkins 8835 LAN Repeater
The fully configured Model 8835 is a "Smart", versatile and cost-effective three-port Ethernet LAN Repeater that is used to terminate fiber optic LANs from a remote Network Node while providing the appropriate media interface to the customer equipment.
It is "Smart" because it provides extensive alarm gathering, both In-band via SNMP and Out-of-band Network Management capability, Modem Dial-up or terminal access, and dry contact relays for connection to external alarms.
In a typical central site application, the Canoga Perkins Model 8829 Media Converter is linked to the Model 8835 Repeater at the remote site. In such an application, the central site technicians can monitor operation on an ongoing In-band basis via SNMP and also gain access to the device and its management information through Outof- band dial-up modem support in the event of failed network links. This analysis information allows the Network Manager to catch small problems before they turn into major issues, to roubleshoot and sectionalize circuits when a failure does materialize, and to send the right person with the right tools to the remote site if required.
The Model 8835?s versatility allows its use as a:
Standalone three-port LAN device
Redundant pairs setup between any two of the available three ports
Remote fiber optic repeater
FEATURES
Three-port LAN Ethernet Repeater
Choice of AUI, 10Base-FL, 10Base-T or 1310nm Singlemode
Laser or ELED
SNMP Repeater MIB Support
EIA-232 port for ?Out-of-band? Management Support
Dial-up Modem Support
Dry Contact Alarms
Built-in Analyzer Port