Canoga Perkins 6703
CWDM Transponder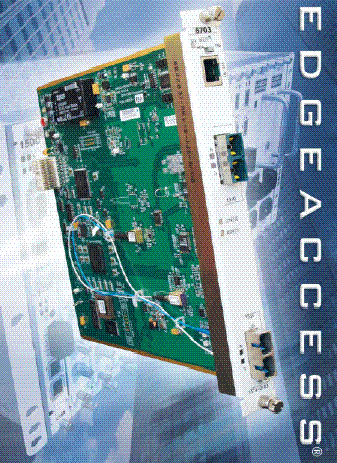 Canoga Perkins

6703 CWDM Transponder


Gig
Expand the capacity of your existing fiber by installing Canoga Perkinsí innovative 6703 Series CWDM Transponder instead of laying more fiber. The 6703 Series CWDM Transponder allows the user to extend up to nine applications over one pair of single mode fiber using WDM technology.

Protocol independence and rate-agility allows the 6703 CWDM Transponder to accommodate data rates from 100Mbps to 2500Mbps. With enhanced Clock Recovery and highly sensitive APD (Avalanche Photo Diode) Receivers, the 6703 can extend standard optical signals over very long spans of fiber. The 6703 is capable of reclocking all industry standard data rates as well as customer defined rates. SpeedCopTM, Canoga Perkinsí bandwidth monitor, comes standard in the transponder as well.

The NEBS Level 3 Tested and Certified system not only proves that the productís design can stand up to extreme conditions, but also collocation with Service Providersí equipment is possible, as well as Central Office installation applications. CanogaViewģ, Canoga Perkinsí graphic web-enabled Network Element Manager, and menu driven user interface screens, provide easy management of the 6703 CWDM Transponder. The management port allows the Network Operator to access the user interface by modem or management software. Local and remote, itís just like being in front of the equipment.
Canoga Perkins 6703 CWDM Transponder
Local and Remote Port Loopbacks
Protocol Transparent and Rate Agile from 100Mbps to 2500Mbps
Utilizes ITU Standard CWDM Optics
APD Receiver Comes Standard
Optional Optical Redundancy
Enhanced Clock Recovery
Full Native Mode Performance
Console port with DTE/DCE Support
Easy Installation