Canoga Perkins 6002 6003 6004
2/3/4 Channel WWDM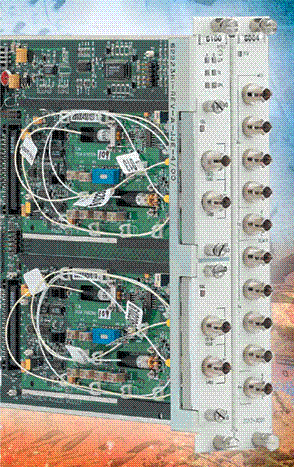 Canoga Perkins Models 6002 6003 6004
2/3/4 Channel WWDM
Gig
To maximize the existing fiber plant, Canoga Perkins offers widely-spaced Wavelength Division Multiplexer (WWDM) products designed to cost-effectively increase channel counts from two to four using the same fiber composite.

Models 6002/3/4 are widely-spaced WDM modules for two to four channels, respectively. The wide spacing of wavelengths does not require thermally controlled lasers, thus greatly lowering the cost of implementing a WDM system.

The WWDM system utilizes wavelengths ranging from 1310nm to 1557nm. One can easily start with two channels and add one or two additional channels in a modular fashion.

Point-to-point applications are the popular configurations for the 6002/3/4 WWDM system, but Linear Add/Drop applications can also be satisfied. This makes the Canoga Perkins WWDM systems very flexible.

FEATURES OF Canoga Perkins 6000 Series WWDM
Model 6002 is a two-channel WWDM. This passive device effectively combines 1310nm and 1550nm (SMF only) together over a composite fiber pair. It is available as a standalone unit or rackmounted in the EdgeAccess? Universal Chassis System (UCS).

Model 6003 is a three-channel WWDM module. Depending on the application, any combination of the four different optical wavelengths can be multiplexed into one composite optical signal. The 6003 is available as a standalone or as a rackmount module for use in the EdgeAccess UCS.

Model 6004 is a four-channel WWDM module. Four different wavelengths of 1310nm, 1480nm, 1543nm and 1557nm are optically multiplexed into one composite optical signal. The Model 6004 is ideal for Metro, Enterprise, Campus, and Access applications. The 6004 is available as a standalone passive device, or as modules in the EdgeAccess family of products.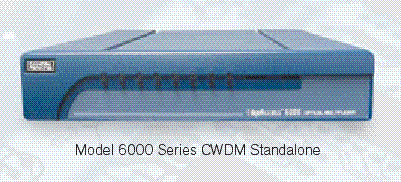 Passive Modules, Requires No Power
Protocol Transparent
Low-Cost, Widely-Spaced WDM Lasers
Linear Add/Drop Applications
Drop and Insert Channels
2, 3, 4 Channels Over One Fiber Pair
Full Native Mode Performance
Easy Installation and Operation
UCS Rackmount and Standalone Modules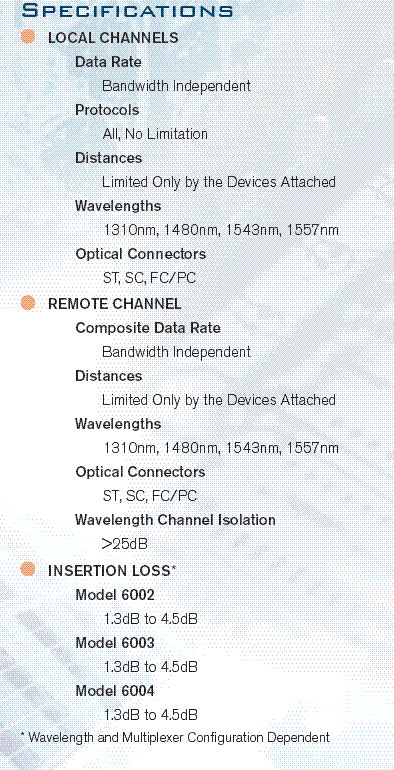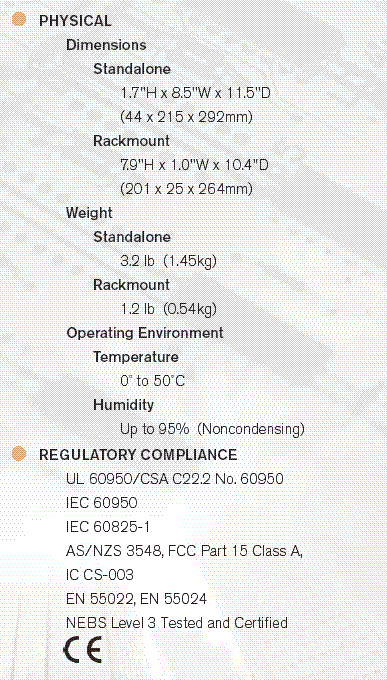 6002/3/4/8 Passive CWDM
MODEL
DESCRIPTION
4 and 8 Channel CWDM MUX-DEMUX
For use in EdgeAccess? UCS Model 1000 and Model 1001 Chassis or as Standalone
6002-2012-2103
2 channel mux/demux, R/M, 1310/1550nm
6002-2012-2403
2 channel mux/demux, R/M, 1510/1550nm
6003-2012-3303
3 channel mux/demux, R/M, 1310/1510/1550nm
6003-2012-3403
3 channel mux/demux, R/M, 1510/1530/1550nm
6004-2012-3903
4 channel mux/demux, R/M, 1510/1530/1550/1570nm
6004-2012-3703
4 channel mux/demux, R/M, 1510/1530/1550/1570 + 1310nm
6004-1012-3903
4 channel mux/demux, S/A, 1510/1530/1550/1570nm
6008-2012-3803
8 channel mux/demux, R/M, 1470/1490/1590/1610/
1510/1530/1550/1570
<![if !vml]><![endif]>
8 channel mux/demux, R/M, 1470/1490/1590/1610/
1510/1530/1550/1570 + 1310nm
Connector type
3 = SC Duplex