Canoga Perkins 2240 MC Fiber Optic Modem
for Video Conferencing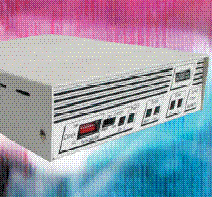 Canoga Perkins 2240MC
Call us for Pre-sales and discount pricing on Canoga Perkins 2240-MC Video Fiber Optic Modem
301-924-7400 Support
Features:
Front panel switch selectable speed from: N x 56/64 Kbps to 1.544/2.048 Mbps
RS366 Compatible Port with adapters
Internal/External/Slave clock
Up to 45 Km from CSU/DSU to the Videoconferencing room
Single/Multimode fiber optic cable
850nm, 1300nm & 1550nm
Rack Mount /Standalone
Canoga 2240-MC series products provide various ways of extending videoconferencing circuits from the network
equipment demarcation point to the end point where the actual videoconferencing takes place. This extension is
over fiber optic cable and can be as long as 45 kilometers.

The main feature of the 2240-MC series products is the capability of extending both the video (data) and the dialer
signals over the fiber optic cable. Two basic models are available: In the 2240-MC1 version, the data signal interface
is RS-422/449 whereas the 2240-MC2 the data interface signal is CCITT V.35. In both products, the dialer signal
interface supported is RS-366 through adapters.

The 2240-MC series products can operate at speeds from 56kbps to 2.048Mbps in a variety of applications.
The three most common applications are switched T1 applications, dual switched 56Kbps/64Kbps applications
and multiple 56Kbps/64Kbps switched circuits through an inverse multiplexer.

To better fit a specific application, the 2240-MC series products are available in either standard or long distance
versions. The standard version is 850nm. The long distance versions include a 1300nm ELED for multi/single mode,
1300nm lasers for both multi/single mode & 1550nm lasers for single mode.

The 2240-MC will operate over all popular sizes of single or multimode fiber optic cable. Input power can be 115
VAC, 230 VAC or -48 VDC. Fiber optic connectors can be SMA, ST or FC/PC.