Adtran T3SU 300
Adtran T3SU 300 T3 CSU DSU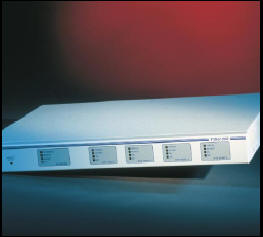 T3SU 300 AC - 1202217L2
T3SU 300 DC - 1200217L4
The ADTRAN® T3SU 300 is a T3 DSU/CSU capable of providing users
up to four DTE data ports. This multiport DSU/CSU provides access to
non-channelized T3 services and allows users to share the cost of a T3 line
between multiple applications. The new, affordable T3SU 300 is the first in
a series of broadband access products from ADTRAN.
The T3SU 300 has one HSSI High Speed Serial Interface port built into
the chassis. Expansion slots for up to three additional DTE interfaces accept
optional field-upgradeable interface cards. The cards can be either HSSI,
high-speed V.35, or DSX-1. The HSSI ports support rates from 75 kbps to
44.2 Mbps, while the high-speed V.35 ports support rates from 75 kbps to
10 Mbps; both in 75 kbps increments. Each DSX module has 4 DSX-1
interfaces and three DSX-1 modules can be supported in a chassis. The
T3SU 300 offers complete configuration, diagnostic, and performance
monitoring through a VT 100 terminal, SNMP, or Telnet.
A series of front panel LEDs indicate the status of the network connection,
along with the state of each of the four DTE ports. SNMP traps notify SNMP
management platforms of alarm conditions. External alarm contacts provide
connection to a visual or audible alarm.
The T3SU 300 includes VT 100 terminal interfaces on both front and rear
panels. Inband access to a remote unit across the T3 circuit can be performed
manually by the user, or automatically by the host T3SU 300 unit. For
customers needing out-of-band management, the T3SU has an optional
integrated modem. Time-of-day automatic reconfiguration allows customers
to assign or reallocate bandwidth to applications based on the time of day,
ensuring that the broadband circuit is always optimized.
Embedded SNMP and Telnet are available through either the 10baseT
Ethernet port or the SLIP/PPP port. The T3SU 300 can be configured,
monitored, and diagnosed using standard SNMP network management
programs, such as Hewlett Packard's OpenViewTM, IBM's NetViewTM, and
Cabletron's SpectrumTM. ADTRAN's ADVISIONTM, a GUI interface for HP
OpenView, can be used to manage the T3SU 300, as well as other ADTRAN
SNMP products.

Data Connect Enterprise offers fulfillment of ADTRAN products
DCE also carries Like New, Refurbished, and Used ADTRAN equipment for resale and purchase
along with Enhanced Warranty Protection Coverage.

Adtran Enterprise Product Specialists