---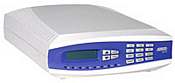 ADTRAN IQ 710 IQ710
Intelligent Frame Relay Traffic Management
IQ 710 with 56/64K Network Module
Part Number:
4202801L1
4202811L1 4202812L1 4202813L1 4202801L1 4202802L1 4202803L1 1202802L1 1202803L1 1200810L1 1204002L3 1204004L2 1204008L2
Intelligent Frame Relay access device with modular network interfaces for 56/64K, T1 / FT1, and T1 / FT1 + DSX-1 for data and TDM voice support
Provides detailed Layer 1-7 statistics, performance management, and optional traffic shaping capability (available as part of the base unit software or may be purchased separately as a software upgrade)
Monitors the network from the physical to the application layer, automatically discovering and classifying over 300 user applications such as Oracle, Exchange, MPEG, RealAudio, and others
Tracks bandwidth usage and response time by application
Includes integral V.35 data interface and 10BaseT Ethernet interface for management
Java applet (N-Formant) for configuration and real time traffic monitoring
Optional dial backup modules for Safe-T-Net disaster recovery, ADTRAN's technology that provides dial backup for Frame Relay traffic. Safe-T-Net is supported in IQ, ATLAS, NetVanta 3000 Series, and Express 5200 Series products.
Pre-packaged bundles available
ADTRAN?s new IQ 710 is a 7-layer Frame Relay traffic identification and shaping device. In addition to terminating a Frame Relay circuit and providing traditional Service Level Agreement monitoring, the IQ 710 provides automatic discovery of over 300 applications like Oracle?, Microsoft Exchange?, FTP, Real Audio?, and many others. The IQ 710 modular network interface has options to support 56/64Kbps, T1 / FT1 and T1 / FT1+DSX-1. The IQ 710 supports Safe-T-Net? with optional dial backup modules. View data collected by the IQ 710 with N-Form for a complete network management system.
According to the company, the addition of traffic shaping to ADTRAN's IQ Frame Relay performance monitoring platform gives network managers more control over critical network resources. Where previously, managers could only monitor bandwidth, they should now be able to control it. As a result, mission-critical applications may be able to receive top priority, while less important applications can make use of remaining bandwidth.
ADTRAN says that its IQ 710 offers previously unavailable insight into network operations that can help managers identify usage patterns and trends. The platform is designed to make it easy for managers to determine true demand for bandwidth, and, as a result, avoid purchasing unnecessary and costly bandwidth. Furthermore, the IQ 710 should complement ADTRAN's IQ performance monitoring series that is already deployed for Frame Relay connectivity, routing, circuit monitoring, SLA verification, and disaster recovery.
Ordering Information
IQ 710 with 56/64K and Shaping 4202811L1
IQ 710 with T1 / FT1 and Shaping 4202812L1
IQ 710 with T1 / FT1 & DSX-1 and Shaping 4202813L1
IQ 710 with 56/64K Network Interface 4202801L1
IQ 710 with T1 / FT1 Network Interface 4202802L1
IQ 710 with T1 / FT1 + DSX-1 Network Interface 4202803L1
T1 / FT1 Network Interface Module 1202802L1
T1 / FT1 + DSX-1 Network Interface Module 1202803L1
IQ 710 Traffic Shaping Upgrade 1200810L1
IQ 710 V.34 DBU Module 1204002L3
IQ 710 ISDN BRI DBU Module 1204004L2
IQ 710 ISDN PRI DBU Module 1204008L2