ADTRAN NETVANTA 7100 IP PBX
NetVanta 7100 1200796E1
Converged IP Office-in-a-box with IP PBX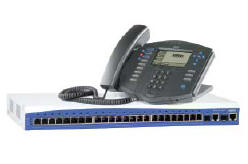 ADTRAN NETVANTA 7100 IP PBX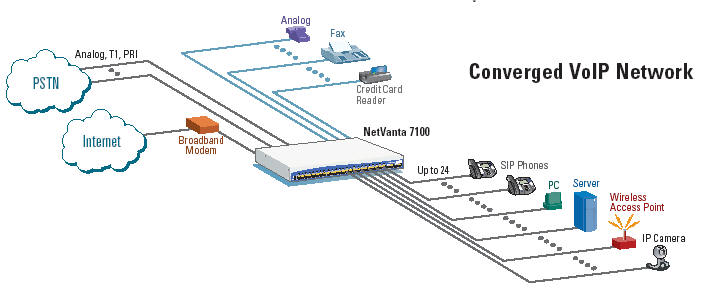 NetVanta 7100 1200796E1 is a complete IP telephony and data networking solution for business locations up to 50 employees. This all-in-one platform includes an IP PBX, voicemail, full-featured IP router, firewall, VPN, 24-port powered (802.3af) Fast Ethernet switch with Gigabit uplinks, and two expansion slots for Network Interface/Voice Interface Modules (NIM / VIMs). The NetVanta 7100 IP PBX functionality includes SIP-based telephony features, voicemail (12 hours, 8 ports), auto attendant, caller ID name/number, classes of service, trunk groups, music-on-hold, overhead paging, and a number of call options including call coverage lists, forwarding of calls to a cell phone, and e-mail notification of voicemail. The system is designed to meet SIP standards and is interoperable with SIP compliant telephones.

The system includes VPN private tunnel encryption (DES, 3DES, AES) enabling telecommuter or branch office locations to securely access the same telephony and data features available at the headquarters location. The NetVanta 7100 is powered by the ADTRAN? Operating System (AOS), and integrates the functionality, ease of use, and value of ADTRAN?s highly successful NetVanta switches and routers. Data networking features include a stateful inspection firewall, IP router including DHCP client/server, multiple routing protocols and Layer 3 Quality of Service (QoS).

The integral switch provides 24 powered (802.3af) 10/100 Ethernet ports, with 802.1Q VLANs and 802.1p Class of Service, making the system fully VoIP-ready and ideal for QoS applications. Available trunk interfaces include analog, T1, and PRI. The system terminates integrated voice/data T1 and PRI circuits using a built-in DSU/CSU; and eliminates high-speed Internet access via DSL or cable modem using either an integral WAN Ethernet port or an optional ADSL or SHDSL NIM.

A dual IP and TDM backplane architecture supports both IP and analog devices to smooth network migration and eliminate common performance problems associated with converting TDM analog devices to IP. For example, fax and modem devices connect directly to the NetVanta 7100 and achieve full-rate performance across the PSTN. A Graphical User Interface (GUI) web server provides easy and secure system setup and management from a web browser. NIM/VIM expansion options include analog 4-port trunk, analog 4-port station, analog 2-trunk/2-station, PRI, T1/FT1, ADSL, and 56/64 Kbps DDS modules. Designed to be a complete, single-product IP networking solution, the NetVanta 7100 simplifies the installation and support of a converged Voice over IP (VoIP) network by combining multiple functions into one flexible system.
Product Features NetVanta 7100 1200796E1

■ IP PBX (50 SIP phones)
■ VoIP/PSTN Gateway
■ Voicemail (12 hours, 8 ports)
■ Auto attendant
■ Chassis Includes:
Two analog station (FXS) ports
Two analog trunk (FXO) ports
Two 10/100/1000 Base-T ports
Two SFP slots
One WAN Ethernet for broad-band Internet/IP access
24 10/100 Ethernet (802.3af PoE) ports
■ Two option module slots for expansion
■ VIM/NIM Option Modules: 4 port analog trunk, 4 port analog station, Analog 2 trunk/2 station, T1/PRI, ADSL, 56/64K DDS
■ Feature-rich IP Router
■ Stateful Inspection Firewall
■ VPN (50 tunnels)
■ Layer 2 and Layer 3 Quality of Service (QoS)
■ Music-on-hold input, paging output
■ Door relay
■ Graphical User Interface (GUI)
■ Industry-leading North American five-year warranty
Product Specifications NetVanta 7100 1200796E1
IP PBX System Features
■ Analog Trunks (Loop Start/Ground Start; FSK capture of Caller ID name/number; 2 integral, 10 max.)
■ Analog Stations (Loop Start DTMF; 1500 feet over 26 AWG; 2 integral, 10 max.)
■ Auto-Attendant (8 ports, single greeting)
■ Call Detail Records (SMDR)
■ Caller ID Name/Number Override (internal and external)
■ Classes of Service
■ Codec support includes G.711 and G.729
■ Configurable Dial Plan
■ Door Relay
■ Door Phone
■ E-mail notification of voice mail message
■ Global Call Coverage Lists
■ IP Stations (50 maximum; SIP hardphone or softphone)
■ Least-Cost Routing
■ Operator Groups
■ Outgoing Number Substitution
■ PRI Trunks
■ Ring Groups (ring all, circular hunt group, UCD, executive)
■ System Speed Dial
■ T1 trunks
■ Trunk Groups
■ Variable length extension numbers (3-digit, 4-digit)
■ Voice mail (12 hours, 8 ports)
■ Virtual Extensions (20)
■ Voice mail accounts (80)
■ 16 DSP resources
■ 64ms echo cancellation for VoIP calls IP Station Features
■ Call Drop
■ Call Forward (All, Busy, No Answer)
■ Call Forward to Outside Line (cell phone)
■ Call Hold
■ Caller ID Name/Number
■ Call Logs
■ Call Park
■ Call Park Retrieve
■ Call Transfer
■ Call Waiting
■ Conferencing (3-person)
■ Do Not Disturb
■ Headset jack
■ Message Waiting Light
■ Missed Call Indicator
■ Multiple Call Appearances
■ Music on Hold
■ Mute
■ Overhead Paging
■ Personal Call Routing (Call Coverages)
■ Redial
■ Speakerphone
■ Volume Control

Router Features
■ RIP V1, RIP V2, OSPF, BGP, and Static routes
■ PPP, PPPoE, Frame Relay WAN protocols
■ DHCP Client/Server
■ Class-based Weighted Fair Queuing, Priority Queuing, Weighted Fair Queuing
■ Diffserv aware/mark
■ MLPPP/MLFR

Firewall Features
■ Stateful Packet Inspection
■ NAT (1:1), NAPT (Many:1)
■ Denial of Service (DoS) Protection
■ Access Control Lists
■ SIP aware (B2BUA)

VPN Features
■ 50 tunnels
■ IPSec
■ DES/3DES/AES encryption

Ethernet Switch Features
■ 10/100Base-T (24)
■ 10/100/1000Base-T (2)
■ Two SFP slots
■ Auto-Rate
■ Auto-Duplex
■ Auto-MDI/MDI-X
■ 802.1d Spanning Tree
■ 802.1p Class of Service aware/mark
■ 802.1Q VLANs
■ 802.3af Power over Ethernet (15.4 watts for each of the 24 ports)

Management Features
■ Command Line Interface (CLI)
■ HTTP, HTTPS (web browser)
■ Telnet
■ SSH

Ordering Information
Current product codes for Adtran 7100 are as follows:
1200796E1             NetVanta 7100
1202862L1             T1 NIM
1200872L1             Dual T12 NIM
1202869E1             ADSL NIM
1200690E1             4-Port FXS VIM
1200691E1             4-Port FXO VIM
1200692E1             2-FXO/2-FXS VIM
1200695E1             T1/PRI VIM
1200770E1#A        IP706 IP Phone
1200770E1#B        IP712 IP Phone
Call ext. 17 for Information and Pricing
Get-A-Quote

Adtran Netvanta Product List