TELENETICS
Data Connect only offers and stocks like new and refurbished Telenetics product
Hardened industrial grade VDC power modems for communications solutions
for Business, Utility and Industrial applications
including Digital, dial up - leased line - cellular/cell modems.
The UDS 202T Modem
This 0-1800 bps leased telecom line or private wire modem is a pin-for-pin, form, fit and function replacement for Motorola Model RM16M.
The MOT202T is a direct pin-for-pin, form, fit and function replacement for the very popular 30-year-old design that Motorola acquired through the purchase of Universal Data Systems and is purported to be the largest installed base of 1800 bps modems that is multidrop and in demand.
We are dedicated to the continued support of past and current customers for this historic line of modems. The MOT202T is an adaptation of an existing Telenetics model that has an installed base of hundreds of thousands of units. We have a hard time saying this is a new product, because of our 20 plus year history of producing other models with shared designs.
Combining other, higher speed Telenetics modem models with this medium speed installed product, will afford the installed base of users the option of up-grading the speed of their systems without changing the wiring or physical slots. A dual speed Fast Poll Modem is the first of these products that combines a 9600 bps, 23 ms training time and the 0-1800 bps, Bell202T.
---
202T modems
(MIU202T, MIU202T LV & MIU202TPowerPort)
UDS 202T
Telenetics/UDS/Motorola 202T VDC modem
Dual 202T - 9612 fast poll modem
---
Standalone Modems
Data Rate
(bps)

Standard

48 - 240V
AC or DC

9 - 36V
DC
+5V +-5%
DC

Battery Powered

2400
V.22bis
MIU2.4
MIU2.4-LV
MIU / Power Port 2.4
MIU / Power Pack 2.4

2400/9600

V.22bis

MIU9.6

MIU9.6-LV

MIU / Power Port 9.6

MIU / Power Pack 9.6

14400

V.32bis

MIU14.4

MIU14.4-LV

MIU / Power Port 14.4

MIU / Power Pack 14.4

28800

V.34

MIU28.8

MIU28.8-LV

MIU / Power Port 28.8

MIU / Power Pack 28.8
| | | | | | |
| --- | --- | --- | --- | --- | --- |
| 1200 | Bell202T | MIU202T | MIU202T-LV | MIU / Power Port 202T | |
| 2400 | V.22bis | MIU9.6L | MIU9.6L-LV | MIU / Power Port 2.4L | |
| 9600 | Proprietary | MIU9.6FP* | MIU9.6FP-LV * | MIU / Power Port 9.6FP* | |
| 14400 | V.32bis | MIU14.4L | MIU14.4L-LV | MIU / Power Port 9.6L | |
9600

N/A

MIU9.6FPD

MIU9.6
FPD-LV

MIU / Power Port 9.6FPD

57.6k

N/A

LDMIU

LDMIU-LV
Combination Modems are also available
(eg: FO/MIU14.4 = combination V.32bis dial modem with fiber optic data interface)
| | |
| --- | --- |
| Temperature Range: | -40 to +85 degrees C |
| Data Interface: | RS232 or RS485 |
| Size: | 5˝ x 4 x 1˝ inches |
* Consult US regarding the 9600FP (Fast Poll) modems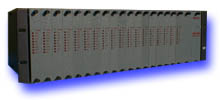 Rack Mount Modems
The Myriad™ Rack Mount Modem Bank is an industrial grade, 19" 3U (5.25" H) chassis with slots for 18 modem cards and 2 power supply cards. Each modem card can be installed with any of Telenetics popular Pony Express™ modem modules, from Bell 202T to V.34

Modems for Automated
Meter Reading Systems
Omega™ AMR Communications
Interface Cabinets
The Omega is a single modem for connection to several power revenue meters at commercial and industrial sites. The Omega integrates a 3-Watt cellular transceiver, a V.32bis Pony Express modem module, an 8-port modem sharing unit and an isolated 90-264Vac power supply with battery backup. A line-sharing module is also available for meter reading over customer-shared lines. The Omega is able to detect a power outage at any of the connected meters, and initiate a call to the head end to report the outage. Over 10,000 Omega units will be installed on the Duquesne Light Company system in late 1998, and connected to approximately 30,000 revenue meters.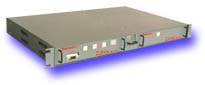 Specialty Modems
The Zodiac MultiPort Modem is an industrial grade V.32 (9600bps) dial modem with 12 or 24 serial data (RS232) ports, allowing the user to communicate with several IEDs (meters, relays, recorders, controllers, etc.) from a single originating call. After dialing the modem, a simple 2-digit address connects the modem to any one of the data ports.
The Zodiac MultiPort Modem is ideal for use at sites where only a single telephone line is available for communicating with several intelligent electronic devices.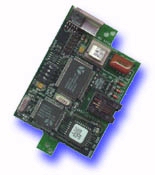 Custom Modems
Pony Express™ modem modules are available for both dial and leased line applications, including all standards from Bell 202T (1200bps) to V.34 (28.8kbps). Other modules include a fiber optic line driver, a limited distance modem and an RS232/RS485 convertor.
A Pony Express module is at the heart of every Telenetics standalone and rack-mount end-user product. These modules are also available to OEMs for integration into meters, controllers, RTUs, etc.
If the available power supply is limited (eg; a battery), the Pony Express module can be configured to fall into a "sleep" mode, or to completely power down, at times of inactivity.
If necessary we will design and manufacture a custom motherboard for the Pony Express module, such that a modem can be installed in your existing rack chassis or will connect to your existing serial data interface. Because all of the Pony Express modules are fully interchangeable, a single design will enable you to install any modem in your product.
Self-Powered Modems
The HideAway self-powered modems are designed for those applications where no external source of power is available.
The HideAway derives its power from two isolated sources: The RS232 interface and the telephone line.
The HA2400LP model is a 2400bps dial modem, used extensively for connection to equipment diagnostic and maintenance ports.
The HA-LDM is a limited distance modem that will drive data at speeds up to 57.6kbps down several miles of twisted pair cable. The HA-LDM has been approved for use on the California ISO metering system