RAD FPS-8 Multiprotocol Fast Packet Switch


Call us for Pre-sales and discount pricing

301-924-7400 Support
RAD FPS-8 Multiprotocol Fast Packet Switch
FEATURES
FPS-8 is a fast multiprotocol packet switch, intended for the regional/central office environment. Each of its eight ports can be configured for any of the supported protocols and operate at data rates of up to 2 Mbps.
Typical applications include: Frame Relay concentration and Frame Relay switching at high throughput.
SPECIFICATIONS
The FPS-8 is a high performance Frame Relay/X.25 switch suitable for headquarters and central sites requiring high throughput. Each port can be configured to one of several protocols: Frame Relay, X.25, RIP, RIP-2, PPP, MLPPP, HDLC, SLIP or async.

The FPS-8 can perform packet switching between different applications such as X.25 to X.25; X.25 to Frame Relay; Frame Relay to Frame Relay; and SLIP to SLIP. It can also encapsulate various protocols over Frame Relay and X.25.
The FPS-8 can also offer a unique solution for transmitting legacy data over high speed IP networks by encapsulating the data into IP packets.

The built-in management agent enables configuration, compilation of statistics and status reports, and diagnostics. The management agent can be accessed from any location in the network. It can be programmed to transmit this information as a result of an alarm event.

The SNMP agent enables management by the RADview graphical user interface on a PC or HP OpenView UNIX station, allowing the products to be configured and controlled via the X.25/Frame Relay network. It sends traps to the management station and supports standard MIBs.

Link interfaces are modular and can be ordered for RS-232/V.24, V.35, RS-530, X.21, V.36 or Ethernet. Each interface is switch-selectable for DCE or DTE. Both the protocol and the interface can be independently selected on any port.
ORDERING
FPS-8
FPS-8/48
FPS-8/UTP

APPLICATION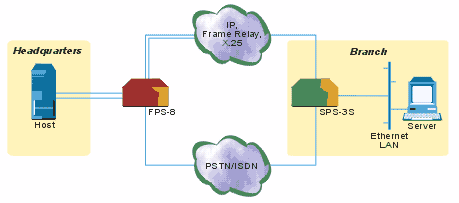 For discount pricing on RAD Data Communications
email us at sales@data-connect.com
or call 301-924-7400
---