RAD FCD-2L E1 or Fractional E1 Access Unit

Call us for Pre-sales and discount pricing

301-924-7400 Support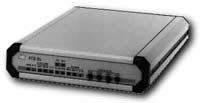 RAD FCD-2L E1 or Fractional E1 Access Unit
FEATURES
The FCD-2L is an economical single port access unit for E1 or Fractional E1 services. The data port rates are selectable for any multiple of 64 or 56 kbps up to 1984 kbps. User data is placed into an E1 frame, using only the required number of timeslots. The FCD-2L is available with or without an LTU (Line Termination Unit). This allows connection directly to the service provider line or, alternatively, via an external LTU.
Timeslot assignment is according to the data port speed and is consecutive starting from any timeslot.
The FCD-2L E1 interface is compatible with virtually all carrier provided E1 services, meeting all requirements of ITU recommendations G.703, G.704, G.706 and G.732. It supports both 2 or 16 frames per multiframe, with or without CRC-4. Zero suppression over the line is HDB3. The Integral LTU insures a range of up to 2 km.
The FCD-2L can also be used as a rate and interface converter between the user data port interface and E1(G.703, G.704) lines.
The E1 link may be clocked from the recovered receive clock (LBT) or from an internal oscillator.
The digital data port interface is field selectable for V.35 or RS-530/422. The physical connector is 25-pin D-type female. Adaptor cables for X.21 and RS-449/422 are available. The interface clocking modes are:
DCE - for clocking attached DTE equipment
DTE1 - for tail-end applications
FCD-2L setup and control is by internal jumpers. Front panel switches control all diagnostics options.
Maintenance capabilities include user activated local loopbacks at the E1 link and at the digital data port. The data port can respond to an in-band ANSI FT1 loop code that can be generated from the remote FCD-2L data port. A pseudo-random data pattern (BERT) can be activated and detected on the data channel.
The FCD-2L can display two alarm types on the front panel: major alarms and minor alarms. The FCD-2L also has a high Bit Error Rate (BER) indicator (10-3). This indicator is ON when the BER on the E1 line is higher then 1 x 10-3.
The FCD-2L is available as a stand-alone unit or as a card in a 19" rack mount enclosure (ASM-MN-214). A rack mount adaptor kit (RM-9) enables installation of one or two stand alone units in a 19" rack.
SPECIFICATIONS
E1 or Fractional E1 access unit
Supports one digital data port
Selectable sync data rates of n x 64 kbps or 56 kbps, up to 1984 kbps
V.35, RS-530, RS-449/422 or X.21 data interfaces
Framing format: 2 or 16 frames per multiframe - with or without CRC-4
Zero suppression: HDB3
E1 interface complies with: ITU G.703, G.704, G.732, G.823, G.706
E1 link available with or without LTU
Setup and control by internal jumpers and switches
Enhanced diagnostics
Unframed over E1
FCD-2L/*/#
E1 or Fractional E1 access unit
FCD-2L/R/#
Access unit card for ASM-MN-214 rack
*
Specify power supply
230 for 230 VAC
115 for 115 VAC
48 for -48 VDC
24 for 24 VDC
#
Specify LTU for integral Line
Termination Unit (optional)
CBL-530/449
Adapter cable for RS-449/V.36 36-pin connector
CBL-HS2X1
Adapter cable for X.21 15-pin connector
CBL-HS2V1
Adapter cable for V.35 34-pin connector
ORDERING
FCD-2L/48
FCD-2L/AC
FCD-2L/AC/LTU

APPLICATION

For discount pricing on RAD Data Communications
email us at sales@data-connect.com
or call 301-924-7400
---