RAD F-TEL Fiber Optic Phone Adapter

Call us for Pre-sales and discount pricing

301-924-7400 Support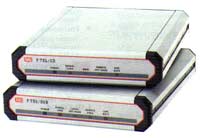 RAD F-TEL Fiber Optic Phone Adapter

FEATURES
F-TEL is a Fiber Optic Telephone Adapter, providing direct, secure fiber optic connection between any telephone set and a PABX, or between two telephone sets.
F-TEL converts the electrical signals into optical signals. Two in-line units are required to complete a fiber link: a PABX unit (F-TEL/CO) for the PABX side and a Subscriber unit (F-TEL/SUB) for the subscriber telephone set.
As a backup to the AC supply, the PABX and Subscriber units can be automatically powered by an on-board nickel-cadmiun rechargeable battery. Another backup option is use of an external low-voltage DC power supply or battery, that can be connected to a special DC connector located on the rear panel of the unit.
F-TEL can be operated in two typical configurations:

Telephone-to-PABX optical connection (Subscriber to PABX)
Telephone-to-telephone optical connection (Subscriber to Subscriber).
F-TEL is designed to operate with several grades and sizes of fiber optic cable. Use of fiber optic cabling provides immunity to electrical interference such as EMI and RFI.
Three optical interfaces are available:

850 nm wavelength for multimode fibers
1300 nm wavelength for single mode fibers
laser diode (1300 nm) for single mode over extended range
The laser diode has an internal temperature control circuit to compensate for ambient temperature changes.
LED status indicators are available on the front panel of both units for indicating the system status.
F-TEL is supplied as a standalone unit. Special hardware for mounting the unit in a 19" rack can be ordered separately
SPECIFICATIONS
Provides secure transmission of telephone conversion over fiber optic link
Extended operating range of up to 50 km / 31 miles with a laser diode
Subscriber unit compatible with any standard telephone set
PABX unit for direct connection to PABX
Multimode or single mode fiber optic
Supports both DTMF and pulse dialing
F-TEL/SUB/*/#/+
Fiber Optic Phone Adapter,
Subscriber version
F-TEL/CO/*/#
Fiber Optic Phone Adapter,
PABX version
*
Specify power supply:
115 for 115 VAC
230 for 230 VAC
48 for -48 VDC

#
Specify optical connectors:
ST85 for ST type connector, 850 nm multimode
ST13 for ST type connector, 1300 nm single mode
ST13L for ST type connectors, 1300 nm single mode laser diode
FC85 for FC-PC type connector, 850 nm multimode only
FC13 for FC-PC type connector, 1300 nm single mode
FC13L for FC-PC type connector, 1300 nm single mode laser diode

+
Specify BAT for Nickel Cadmium backup option (default is without battery)
RM-9: Hardware for mounting a standalone unit in a 19" rack
ORDERING
F-TEL/CO/115/ST13
F-TEL/CO/115/ST13/BAT
F-TEL/CO/115/ST85
F-TEL/CO/115/ST85/20
F-TEL/CO/115/ST85/BAT
F-TEL/CO/2/ST85/BAT
F-TEL/CO/48/ST13
F-TEL/CO/48/ST85/BAT
F-TEL/SUB/115/ST13
F-TEL/SUB/115/ST13/BAT
F-TEL/SUB/115/ST85
F-TEL/SUB/115/ST85/BAT
F-TEL/SUB/2/ST85/BAT
F-TEL/SUB/48/ST85
F-TEL/SUB/48/ST85/20
F-TEL/SUB/48/ST85/BAT

APPLICATION

Figure 1. Subscriber to PABX

Figure 2. Subscriber to Subscriber
For discount pricing on RAD Data Communications
email us at sales@data-connect.com
or call 301-924-7400
---