Features
The ASMi-31, Remote Control Sync/Async Short Range Modem, operates full duplex over twisted pair, 2-wire unconditioned lines. It has a transmission range of up to 8 km (5 miles) over 24 AWG wire (see Table 1) and operates at user selectable rates from 1.2 kbps to 128 kbps.
The modem uses 2B1Q line code and adaptive equalizers, which provide immunity to background noise, eliminate normal line distortion and enable efficient transmission over 2-wire twisted pair cables.
Transmit timing is either provided internally, or recovered from the received signal (user-selectable). Alternatively, the transmit timing can be detected automatically and derived externally from the digital interface, enabling tail-end applications. The carrier may be continuous or controlled by RTS, for passing control signals end-to-end (user-selectable).
ASMi-31 supports a wide range of digital interfaces: V.24/RS-232, V.35, X.21, RS-530, V.36/RS-449 and G.703 Codirectional (64 kbps). In addition, an Ethernet/802.3 bridging option enables direct connections of an Ethernet LAN to both sides of the ASMi-31 link.
The ASMi-31 system configuration is stored in non-volatile memory, minimizing system down-time when power is down or when a faulty remote unit is replaced.
Setup, status, alarms and diagnostics can be monitored and activated from the ASMi-31 front panel, or via a standalone portable control unit (PCU). Alternatively, the ASMi-31 can be managed from an ASCII terminal or an SNMP Unix/PC station connected to LRS-12/24.
Line interface circuitry protects against lightning and power surges.
ASMi-31 is available as a standalone unit in both ASMi-31/M "Master" and ASMi-31/S "Slave" versions. The master version has a front panel LCD and control switches. The slave unit has a blank panel, which prevents unauthorized changes to link parameters. ASMi-31 is also available as a card for central solutions.
Specifications
2-wire, full duplex, short range modem
Remote management using an in-band channel
2B1Q line coding
Operating range up to 8 km (5 miles) over 24 AWG wire, independent of data rate
Real-time alarm indication for local and remote units
Selectable data rates from 1.2 kbps up to 128 kbps
Fully compatible with ASM-31 and SRM-31
Works opposite MP-2100/HS-U module and U-RPT (ASMi-31-2 only)
Card version for ASM-MN-214 19" rack and LRS-12 19" rack with central SNMP management
Configuration and monitoring of local and remote units from front panel
V.54 and built-in BER tester diagnostics
Supports various digital interfaces: V.24/RS-232, V.35, X.21, V.36/RS-449, RS-530, G.703 Codirectional, or built-in Ethernet bridge
Automatic rate detection in external clock mode

ORDERING INFO

ASMI-31-2/CB/V24
ASMI-31-2/M/115/V24
ASMI-31-2/M/115/V24/V110
ASMI-31-2/M/115/V35
ASMI-31-2/M/230/G703/TB
ASMI-31-2/M/230/V24
ASMI-31-2/M/48/V24
ASMI-31-2/M/48/V24/V110
ASMI-31-2/S/115/V24
ASMI-31-2/S/230/G703/TB
ASMI-31/CQB/V24/RJ
ASMI-32/S/115/V35/RJ
APPLICATION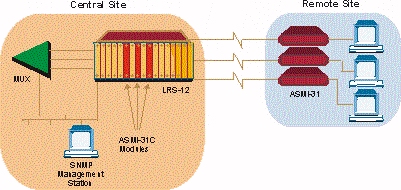 Figure 1. Central Site Application



Figure 2. ASMi-31 Working Opposite HS-U card in Megaplex-2100