RAD ASM-11 Async Short Range Modem
ASM11SA/115 ASM11SA/230

Call us for Pre-sales and discount pricing

301-924-7400 Support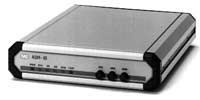 RAD ASM-11 Async Short Range Modem
Short Range Modem
Features
The ASM-11, Short Range Modem, operates full or half duplex. Line communication is synchronous over unconditioned lines. ASM-11 provides an extended range of 39 km (24 miles) and operates at eight selectable rates, up to 19.2 kbps (see Table 1).
Conditioned differential diphase modulation (EUROCOM Std.D1) provides immunity from background noise, eliminates normal line distortion and enables efficient transmission and reception of serial data over twisted pair cable. Coupling to the line through isolation transformers, in conjunction with other circuitry, protects against AC or DC overvoltages. The protection circuitry enables operation, even when DC is connected to the line.
Transmit level and impedance are independently selectable. ASM-11, however, performs async to sync conversion in compliance with ITU V.22 bis standard.
ASM-11 features V.54 diagnostic capabilities for performing local analog loopback and remote digital loopback. The operator at either end of the line may test both modems and the line in the loopback mode. The loopback is controlled by either a front panel switch or via pin 18 and pin 21 of the V.24/RS-232 interface.
ASM-11 is available as a desktop unit. It is compatible with the CMN-C11 card of the CMN-16, 19" card cage, carrying up to 16 of the CMN-C11 cards (see CMN-16 data sheet for details).
Application


Figure 1.
Point-to-Point Application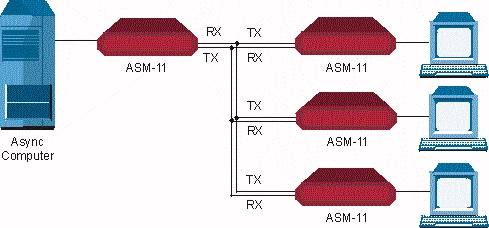 Figure 2.
Multipoint Application
ASM11SA/115 ASM11SA/230
For discount pricing on RAD Data Communications
email us at sales@data-connect.com
or call 301-924-7400
---