96- or 120-port, V.92/V.110/V.90/ISDN, Dial-Up, Remote Access Server (RAS)
Quad T1/E1/PRI WAN ports
Up to 120 simultaneous V.92, V.110, V.90, or ISDN SyncPPP connections
Dual 10/100 Ethernet ports
Integrated IP Router
SNMP/HTTP management
Expansion port for sync. serial, async. serial, iDSL connections, 48 modems/ISDN
1U high 19 in. stackable chassis
AC and DC power options
Dual-redundant hot-swappable load-sharing power supplies
The 3120 supports up to 120 digital ISDN or analog (V.92, V.110, V.90, K56Flex, V.34+, etc.) modem connections in a single 1U-high (1.75 in./4.45 cm) rack-mount chassis. It is the highest density, lowest profile remote access server available anywhere. With its dual-redundant hot-swappable power supplies, the 3120 RAS protects against single-point power failures. It has two 10/100-Mbps Ethernet ports for load sharing and traffic balancing.
For maximum flexibility, the 3120 has a slot for an optional expansion module. ISPs can add asynchronous ports for terminal servers or dedicated DSL modem ports for increasing revenue. The 3120 is a one-of-a-kind Network Access Unit.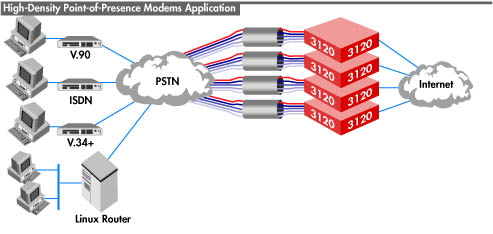 Patton's multi-chassis MLPPP enables service providers to scale additional servers without worrying about rejecting calls. New 3120s added to the ISP's PoP simply appear as a large virtual modem pool.
Removable dual-redundant power Standard—Supports two AC, two DC, or a mix of AC and DC power supply modules
Dual 10/100 Ethernet Ports—Flexible integration options for your high-performance network
PMC expansion card—Network expansion options enable the 3120 to offer new revenue opportunities

SNMP/HTTP management—Embedded HTTP server provides complete configuration and control using your web browser
Quad T1/E1 ports for 120 RAS or uplink services—Terminate any combination of 120 modems/ISDN connections, or expand into remote locations and use the 3120 as a complete PoP solution

| | |
| --- | --- |
| 3120/48/UI/z | Dual T1/PRI, 48-port, expandable RAS |
| 3120/60/UI/z | Dual E1/PRI, 60-port, expandable RAS |
| 3120/96/UI/z | Quad T1/PRI, 96-port, expandable RAS |
| 3120/120/UI/z | Quad E1/PRI, 120-port, expandable RAS |
| 3120/PMC-MDM48 | 48-modem expansion module |
| 3120/PMC-MDM60 | 60-modem expansion module |
| 3120/PMC-AS16 | 16-port async. serial expansion module |
| PMC Modules | Optional PMC Modules. |
| 3120/PS-UI | 90–260 VAC universal input power supply |
| 3120/PS-48 | 36–72 VDC input power supply |

LAN: Dual auto-sensing 10/100 full-duplex Ethernet ports
LAN Protocols: TCP/IP suite with integrated IP router, RIP, RIPv2, OSPF*, RADIUS, TELNET, RLogin, TCP Raw, HTTP, SNMP
WAN: Quad T1/E1/PRI RJ-48C ports
WAN Protocols: Async. and Sync. PPP, MLPPP, Multi-chassis MLPPP, SLIP, Frame Relay (RFC-1490)
Signalling: Robbed-bit, R1, R2, Q.921/Q.931
Modems: Up to 120 V.92, V.110, V.90, K56Flex, V.34+, or ISDN B-channel digital calls (additional ports via PMC expansion modules)
Software Upgrades: Achieved through Flash upgrades via FTP. Software available at http://upgrades.patton.com
Warranty: 1-Year Standard Warranty. Upgrade available to a 5-year Enhanced Waranty (includes Advance Replacements)
Power: Dual-redundant, load-sharing, requires less than 40 Watts of power
AC: 90 to 264 VAC
DC: 36 to 72 VDC
Temp.: 0 to +40°C (0 to 104°F)
Humidity: 5 to 95%, non-condensing
Dimensions: 1.75H (1U) x 17W x 10.0D in. (4.44H x 43W x 025.4D cm), convection-cooled, NEBS Level 3

* OSPF feature in development. Call for availability.