2 Wire 2701HG-B 4-Port Wireless 802.11G ADSL 2/2+ Gateway
This is a refurbished product.
Minor scratches and/or blemishes may be present. Product is fully tested, and guaranteed working.
Product ships in a clean plain white or brown box and includes:
one (1) 2Wire 2701HG-B Gateway, one (1) power supply, one (1) Ethernet Cable, and one (1) Telco Cable.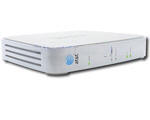 The 2Wire 2701HG-B DSL Gateway allows you to connect multiple computers to the Internet using Wi-FI and Ethernet. You can connect several devices in your home for a rich and secure networking experience. The 2701HG-B ADSL modem / wireless router is broadband media-ready gateway, so you can enjoy Internet-based audio and video anywhere you like. You'll also appreciate the convenience of file sharing between the connected computers in your home.

Features
Built-in HyperG 802.11g wireless access point, 4-port 10/100 Ethernet switch and router
High-powered HyperG wireless technology provides faster speeds, fewer cold spots and a high level of mobility
Shares high-speed broadband Internet access, plus files and printers, among multiple computers with or without wires
Compatible with existing 802.11b and 802.11g wireless devices
Supports 64- and 128-bit Wired Equivalent Privacy (WEP) encryption for enhanced security; professional-grade firewall protects personal information
Greenlight easy-to-use, browser-based configuration
Allows flexibility of wired and wireless connections
LED indicators keep you aware of network status
Horizontal desktop placement for easy integration into your setup
External power supply

Product Specs
Manufacturer - 2Wire
ADSL Device configured for AT&T DSL services
WAN Interface - ADSL (RJ-11)
LAN Interface - 4 port 10/100 Ethernet with Auto-crossover (RJ-45)
802.11g or high powered HyperG access point
PPP over Ethernet (PPPoE) gateway / pass-through
Static or Dynamic IP support
DNS Client/Server
DHCP Client/Server
Standard NAT/PAT between LAN and WAN
Automated NAT Pass-Thru for LAN client-initiated VPN tunnels
DMZplus for automatic WAN IP assignment to a local PC
Simple Web-based user interface for easy configuration and diagnostics
Quick summary page with shortcuts to most commonly used features
Integrated firewall includes stateful packet inspection
WEP (default), WPA wireless encryption security
FCC Part 68, Part 15, Class B
UL Approved
External DC power supply
System Requirements
Windows 98, 2000, ME, XP; Mac OS 8.6 to 9.x and OS X 10.1 or higher; Ethernet/wireless adapter card